BE A PUBLIC DEFENDER
ON A TROPICAL ISLAND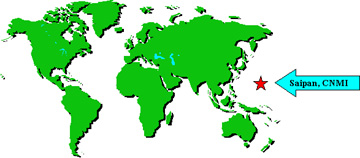 Candidates:
We're looking for two Assistant Public Defenders to join our team in the Commonwealth of the Northern Mariana Islands. The NMI is a U.S. commonwealth in the Western Pacific Ocean (closer to Japan than Hawaii). Tropical island setting, ethnically mixed population, good professional and friendly office, six attorneys, two investigators and other support staff serving a multi-lingual client population with Assistants carrying about 70 cases ranging from DUI to homicides.
Requirements:
We're looking for good trial lawyers who take pride in their work with a minimum of 3 years experience in criminal defense; must be good team players willing to teach and learn; must have a sense of adventure. Starting date: June 1, 2005 or soon thereafter.
Salary and Benefits:
Starting at $45,000, higher depending on years of experience; plus medical, life insurance (with employee contribution) and retirement benefits in a very low tax jurisdiction. Benefits may include recruitment and repatriation expenses and housing benefits.

How to Apply:
Please send resume and cover letter to CNMI Office of the Public Defender, Douglas Hartig, Chief Public Defender

By email: hartigd1@gmail.com
By fax: (670) 234-1009 please do not fax writing samples until further notice
By snail mail: P.O. Box 10007, Saipan, MP 96950
The fine print: Limited admission to the NMI Bar while employed by government. You must be in good standing in all jurisdictions in which you are admitted and obtain favorable NCBE character report from http://www.ncbex.org/character.htm A felony conviction precludes admission. There will be a mandatory pre-employment drug test done on island. Equal opportunity employer.